One of the most difficult aspects of being a girlfriend is watching your man's troubles. It saddens you that you're prepared to go to any length to make him happy. In this article, we will be discussing some of the ways to comfort your boyfriend while going through tough times. We hope this helps you guys and prospers your relationship.
When you love someone it is not easy to see them be worried about anything. At times like these, we long to help them no matter what. You may help him feel better by doing a variety of things. The goal is to show that you are available to him for anything he needs.  It's much more difficult if he refuses any form of support or argues that he's not disturbed at all. That should not, however, prevent you from having to support him. Now, more than ever, he needs you, so be there for him. We have curated a list of 10  ways to comfort your boyfriend while going through tough times.
Check out our list of 10 ways to comfort your boyfriend while going through tough times:
1. Try listening to every little thing he says
You must listen to him. Pay close attention to what he says. Make him feel as if his opinions are important. Put yourself in his shoes to better understand why he is furious. Remember how patiently he sat and listened to your rants? Now is the moment for you to return the favor and pay close attention to him.
2. Ask him about what can you do to make him feel better

Ask him directly what you can do to support him. He may only require a listening ear at times. He may also seek your opinion or insight on what he should do regarding an issue he's experiencing. He may simply require some downtime to watch a fun movie or play his favorite video game. You may show him that you care by simply asking what he needs, and you can understand what he really wants from you.
3. Try being there for him as a best friend
Nothing compares to having a girlfriend who is also your best friend, so be both. Give him some suggestions. Encourage him with your words of support. Tell him how much you value the work he performs. Remind him of what he is capable of doing. If he wants to go out for a drink, accompany him. Look for methods to deflect his attention.
4. Tell him that he's not alone.
Assure him that you are there to support him. He may feel alone and overwhelmed if he is overly anxious. Simply assuring him that you're available for everything he requires can help calm him down. Even if you can't physically assist him, you may still be there for him emotionally.
5. Stay positive for him.
You don't want to add to his stress by attracting more negativity. Rather, spread good vibes. Remind him how fortunate he is to be able to enjoy the things he has right now. Remind him of his or your joint aims. Allow him to see the positive aspects of life despite the difficulties you two are through.
6. Try comforting him physically.
He might feel better with a gentle touch or a hug. You might try to connect with him by physical touch in addition to emotionally supporting him. A kind stroke on his shoulder or a warm hug will help him remember that he has you to support his deal with his stress.
7. If necessary, give him some space.
When you have too much on your plate, all you want is for everyone to leave you alone. So, if you think your guy needs some distance, offer him some. It might help him work things out and organize his thoughts. Of course, be present when he's ready to open up to you.
8. Allow him to vent his frustrations.
Encourage him to express himself completely. He may need to let it all out at times. Allow him to talk about whatever upsets him. Tell him not to bottle it all up inside and to let go of the stress he's been carrying. He might feel a lot better after that.
9. Encourage him to go out with his family/friends.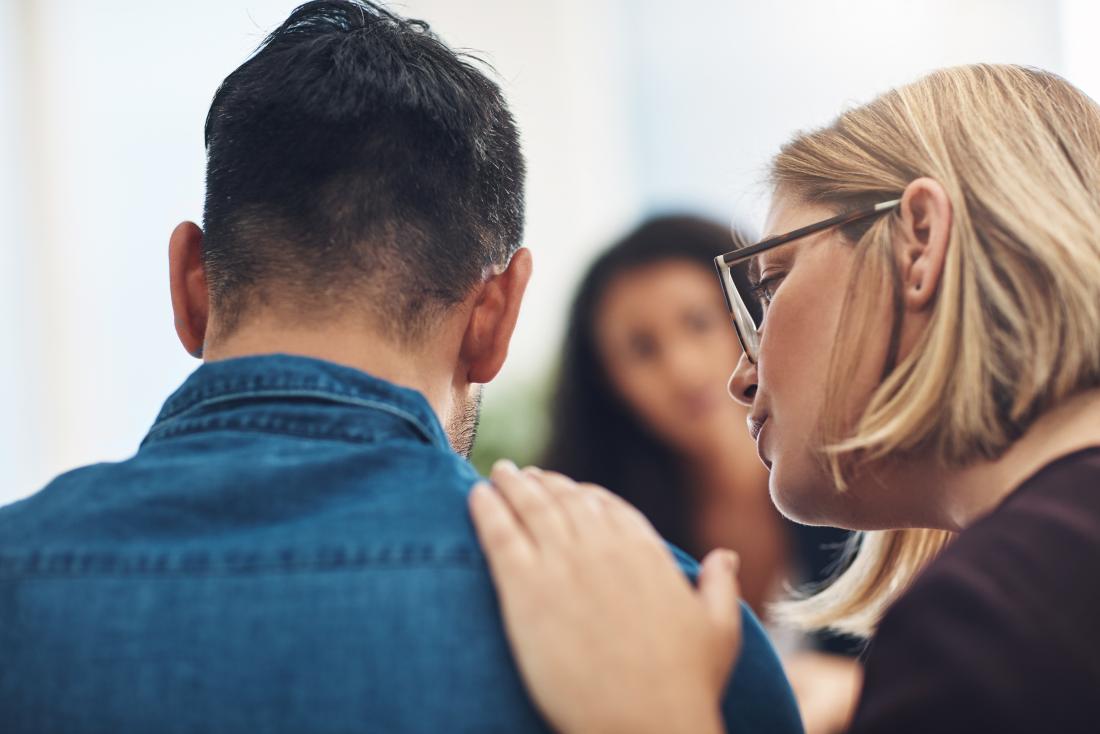 He may not want others to know how stressed he is, so simply encourage him to talk to his family or friends. Allow him to hang around with them. If he refuses, perhaps a friend can pay him a visit in the house. Your partner needs to know how much you adore him.
10. Cook his favorite food.
Food is always one of the most effective stress relievers, so make sure your man has eaten plenty. Make some effort to prepare his favorite dish. Don't be concerned about messing things up. It may not be ideal in taste, but your small efforts will undoubtedly bring a smile to his face.
Relationships can surely be tough. It is a long journey of laughter and melancholy. It's heartbreaking to watch your man in such poor form. However, keep in mind that it is through these difficult times that your connection grows stronger. Now is the time to show your partner how much you care, so be his rock. Be a little more forgiving. Be his friend as well as his partner. Here was the breakthrough on 10 Ways To Comfort Your Boyfriend While Going Through Tough Times.
Also Checkout: 10 Ways To Comfort Your Girlfriend